A measurement system for the calibration of large-area solar cells with edge lengths of up to 210 mm is now available to all customers at ISFH CalTeC. This system enables the measurement of current-voltage characteristics and addresses the ever-increasing international demand for calibrations of M10 and G12 solar cells.
The light source of the measurement system is the latest LED-based solar simulator generation from WAVELABS, which works with 27 LED channels with different wavelengths. "This gives us the greatest possible freedom in adjusting the spectral distribution of the solar simulator," explains Dr. Karsten Bothe, head of the solar cell calibration laboratory. "Moreover, we are already prepared for measurements of tandem solar cells, which will become increasingly important in the future and whose measurement requires an adjustment of the irradiance of the individual subcells."
In all classifications of IEC60904-9, the WAVELABS solar simulator achieves the best possible class A+. "We are very pleased to see, that our portfolio of solar simulators is not only being used in production lines worldwide but also perfectly fits the needs of high-end precision measurement," says Dr. Patrick Mergell, COO/CTO from WAVELABS Solar Metrology Systems GmbH. "We are proud to have worked with ISFH on this project, because it has not only fulfilled the customer needs, but also laid the path for the new generation of cell testers available on the market in the future," adds Nikita Melnichak, WAVELABS' Product Manager for the customized solar simulator at ISFH.
About ISFH
The Institute for solar energy research Hamelin (ISFH) currently has 155 employees in two departments developing innovative technologies for solar energy use. The Photovoltaics Department develops new industry-oriented solar cell technologies, highly efficient industrializable photovoltaic modules and conducts research on the integration of PV into innovative systems. The ISFH is a member of the German Renewable Energy Research Association (FVEE) and the Zuse-Gemeinschaft as well as an affiliated institute of the Leibniz University Hannover.
About WAVELABS
Dr. Torsten Brammer, Jörn Suthues and Dr. Thankmar Wagner founded WAVELABS Solar Metrology Systems GmbH in September 2011. In just over a decade, WAVELABS has grown from a start-up to a global market leader for LED solar simulators – with customers in more than 30 countries and a market share of around 30 percent. The 90 employees of the Leipzig-based technology company generated revenue of approximately 29 million euros in 2021.
Today the innovative measurement systems for characterizing solar cells and modules are used globally for R&D, production, quality assurance and certification at major photovoltaic manufacturers as well as at renowned research institutes and universities. The company's vision is an energy supply that is 100 percent from renewable resources in order to leave the world in a better state than we found it.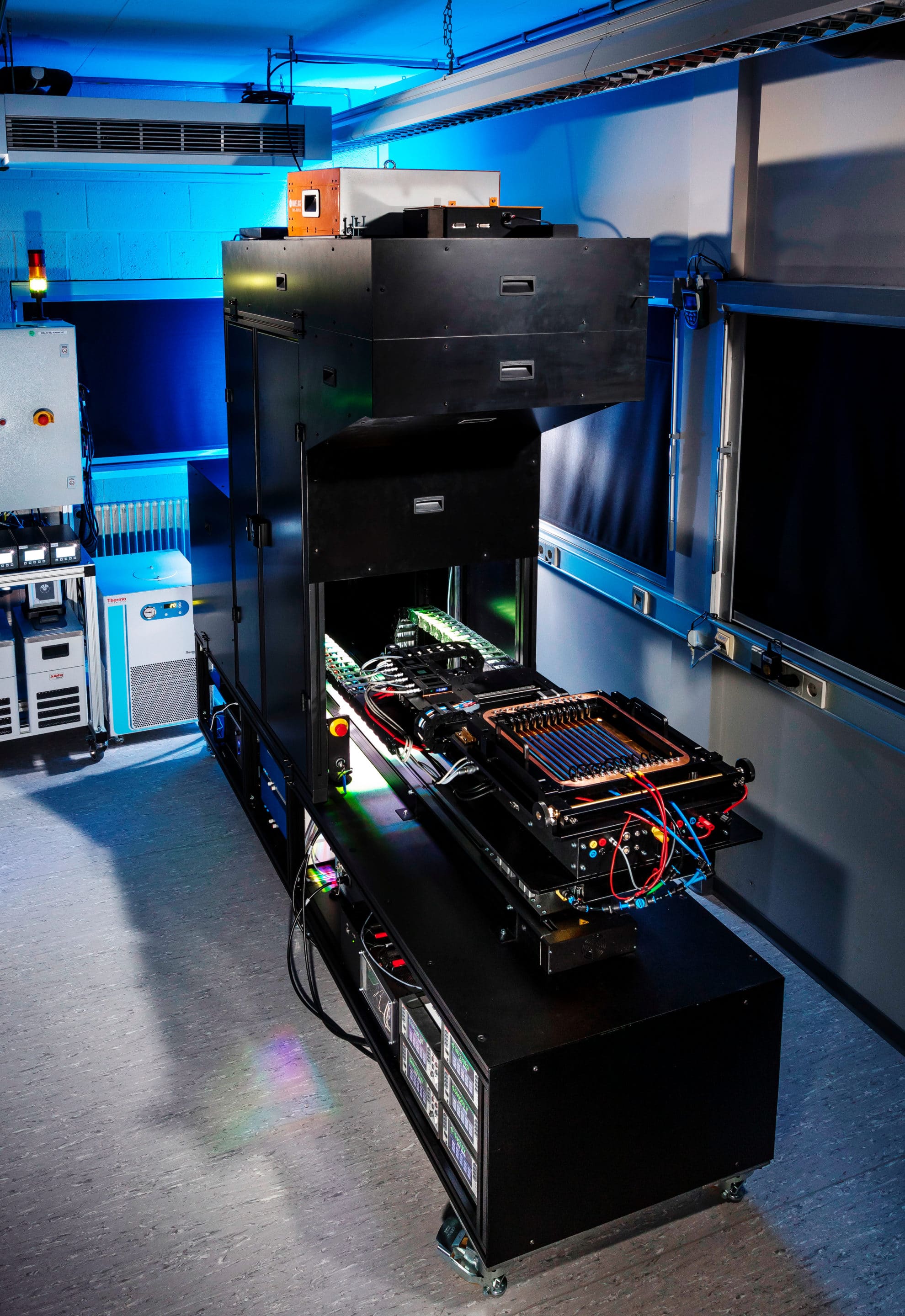 Measurement system for the calibration of M10 and G12 solar cells with a new WAVELABS LED solar simulator.  © ISFH/Salzmann
Contact:
Dr. Karsten Bothe
Institut für Solarenergieforschung
– Calibration and Test Center –
Fon: +49 (0) 5151 999 425
Fax: +49 (0) 5151 999 400
eMail: bothe@isfh.de