ISFH measurement service – Solar modules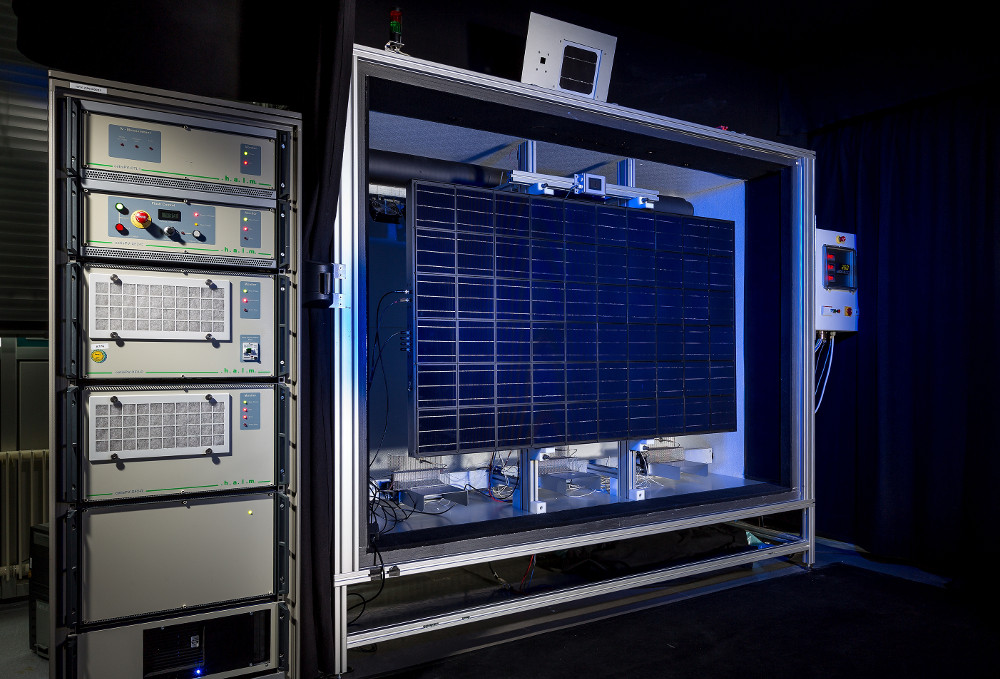 Flasher system with integrated temperature chamber.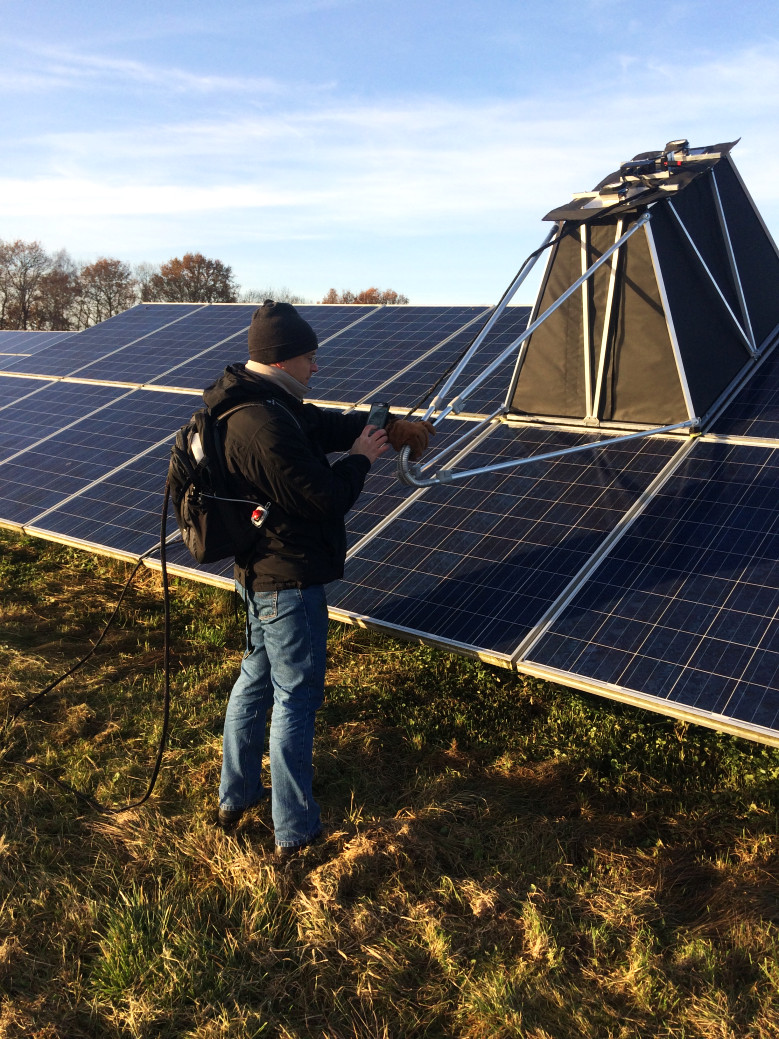 Measurement method UV-fluorescence applied in the field.
Power determination, temperature coefficients, low light behavior
We measure the performance of your solar modules including temperature coefficients and low light behavior. The power measurements are carried out according to IEC 60904 with a class AAA flash system or under sunlight. We can measure solar module sizes up to 200 cm × 140 cm. Solar modules with electrical characteristics in the range 20 mA – 20 A and 0.5 V to 120 V can be characterized.
Analysis of solar module faults
Using electroluminescence, lock-in thermography, visual inspection, and UV-fluorescence techniques, we can analyze cell cracks, connector breakage, contact finger defects, potential-induced degradation (PID), light-induced degradation (LID), paste degradation, and many other defects in the solar module. The analysis can be carried out in the laboratory or directly in the field.
For analysis in the PV generator, ISFH offers UV-fluorescence technology, with which defects can be analyzed directly in the field. Rewiring or even removal of the solar modules is not necessary. If necessary, faulty modules are analyzed more precisely in the field by means of electroluminescence.
Climate tests
ISFH offers temperature cycling tests, moisture-heat tests or moisture-freeze tests in accordance with the IEC 61215-2 standard. We offer potential-induced degradation (PID) testing according to IEC 62804 standard. Our climate cabinets can accommodate solar modules up to a size of 185 cm × 140 cm.
Mechanical load test
With our pressure-suction test stand a mechanical load test according to IEC 61215/10.16 can be carried out on PV modules. The front side of the PV module is evenly loaded with 2400 Pa to simulate exposure to wind and snow. The load is applied pneumatically alternately in push and pull direction. In the last test cycle in pressure direction, the load can be increased to 5400 Pa to represent a load due to larger quantities of snow and ice. This measuring stand can accommodate modules up to a size of 180 cm × 140 cm.
Light stabilization test
We carry out light stabilization tests according to the IEC61215 standard or under elevated temperature and current injection. These tests are particularly important for so-called PERC solar modules, since light-induced power reduction can occur more strongly with this module type.
Tests according to customer requirements
We are also happy to carry out special tests according to customer requirements. For further details on the test procedures, please contact our contact person.