ISFH SolarTeC
Industrial processing tools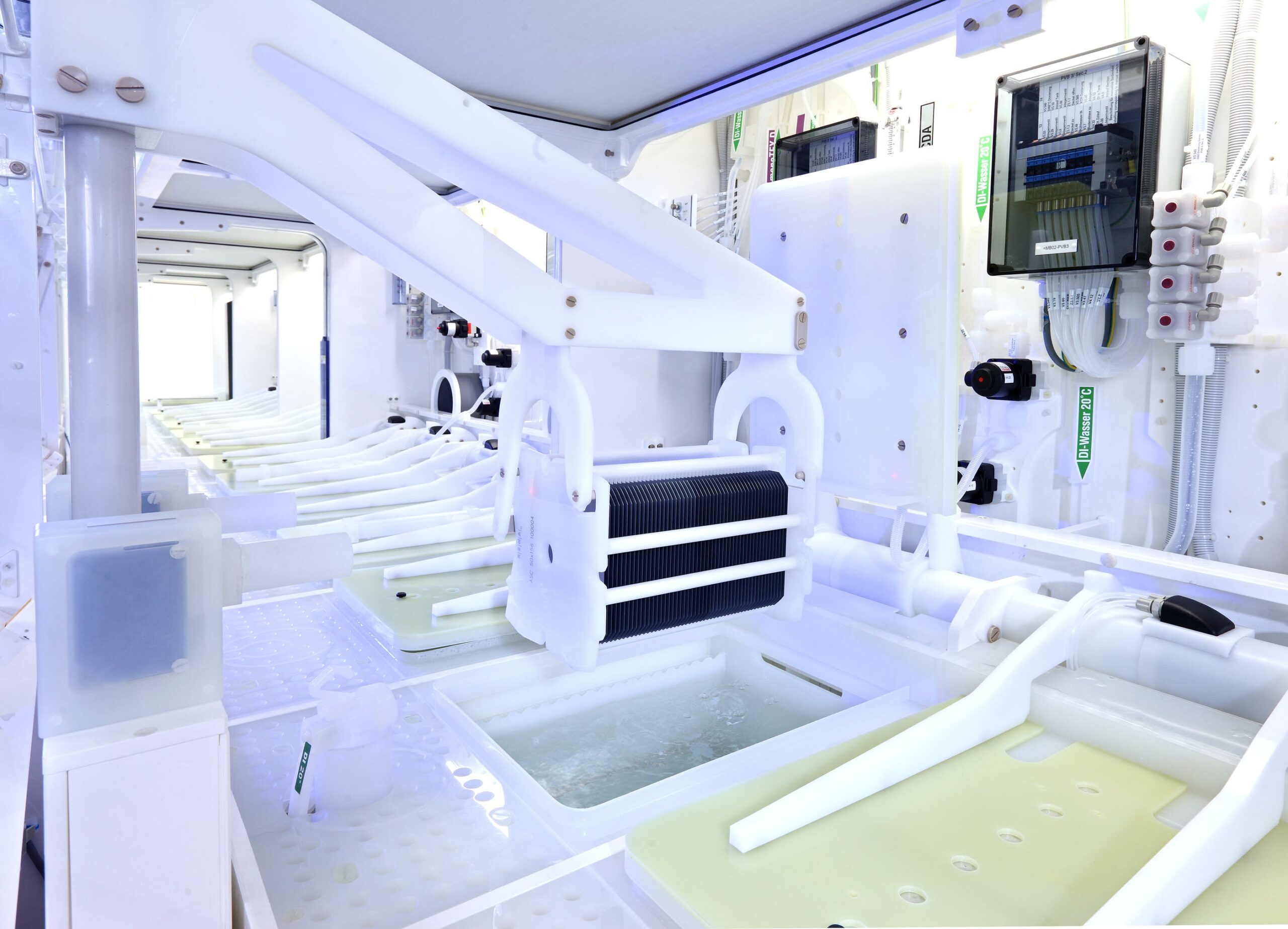 Tool for wet chemical processing (RENA Batchlab)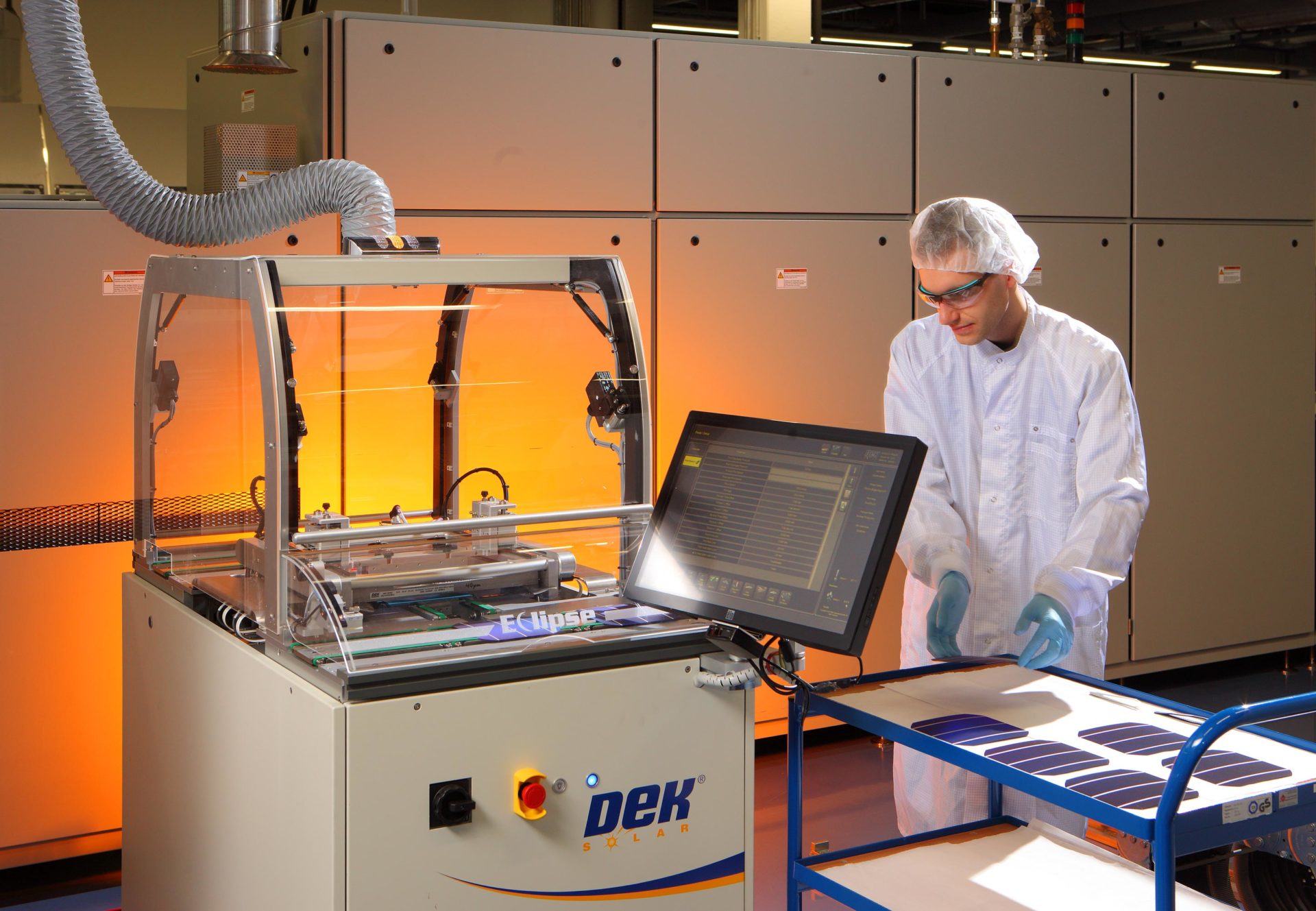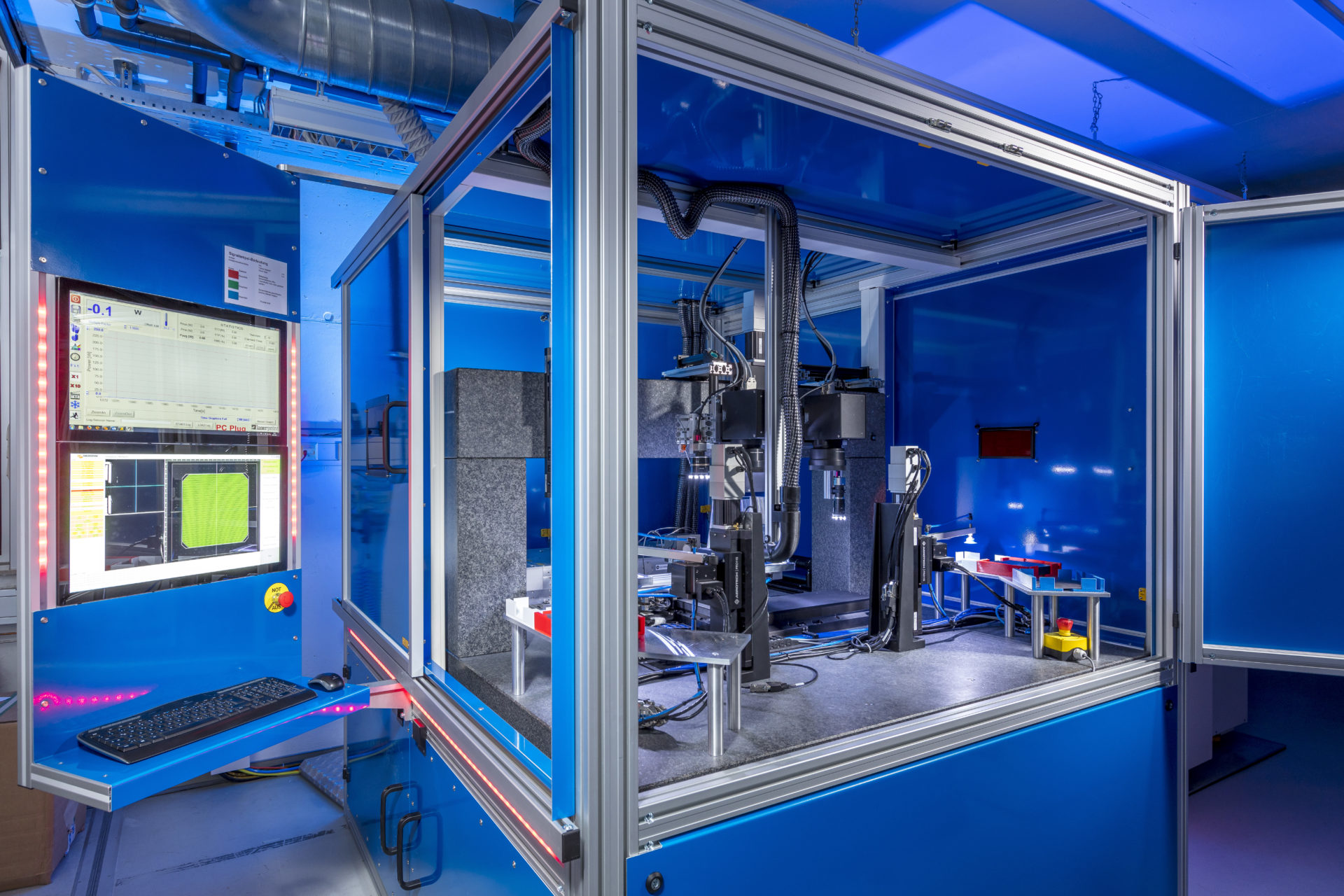 Laser tool with ps pulse length
In the ISFH SolarTeC, we process large-area solar cells in a near-production environment on industry-relevant equipment. The heart of this infrastructure is the 800 m² technology centre, which houses tools for wet chemistry, diffusion, oxidation, PECVD, ALD, screen-printing metallization and module production with up to 5 busbars or SmartWire technology. The technology centre is supplemented by further laboratories for laser processes and industrial PECVD and LPCVD processing tools. We use the capabilities of the SolarTeC for the evolutionary development of the current PERC technology towards higher efficiencies, lower manufacturing costs and bifactal PERC+ solar cells, as well as for transferring new technologies to an industry-relevant platform.
At ISFH we pursue an industry-oriented approach of developing new technologies ideally as drop-in or add-on for today's industrial mainstream. Current examples are passivating "poly-Si-on-oxide" (POLO) contacts and tandem cell concepts. This is achieved through close cooperation between all groups in the photovoltaics department.
A particular strength of ISFH's SolarTeC is its flexibility. We have many years of experience in comparing our partners' processes and systems using cross-processing with our reference processes and equipment in the SolarTeC. This offers our partners the opportunity to evaluate specific materials and individual process steps or to develop alternative cell and module concepts together with us.
Current reference processes and examples of successful technology development on large-area cells at SolarTeC:
Reference process for industry-typical PERC (Passivated Emitter and Rear Cell) solar cells (p-type wafer, phosphorus emitter, AlOx/SiN rear-side passivation, LCO, Ag (FS) and Al (RS) screen printing) with efficiencies of 21.5 %
Bifacial PERC+ solar cells with aluminium finger grid on the back and efficiencies of up to 21.6 % (with 5 busbar technology) resp. 22.1 % (with busbarless Ag-front grid for SmartWire module interconnection)
Reference process for n-PERT BJ (Passivated Emitter and Rear Totally Diffused with Back Junction) solar cells (n-type wafer, phosphorus front surface field, rear-side boron emitter, AlOx/SiN rear-side passivation, LCO, Ag (FS) and Al (RS) screen printing) with currently regular efficiencies of 21.0 %
Double-side contacted, screen-printed solar cells with POLO contacts for both polarities and current efficiencies of up to 22.3 % (in cooperation with Centrotherm, Leibniz Universität Hannover and Meyer Burger)
Partial processing of a Si-bottom cell of a Si/III-V multijunction device with an efficiency of 35.4 % (2017, interfacial oxide growth and POLO junction formation in the SolarTeC, subsequent cutting of the 156 mm × 156 mm Cz-Si wafer)
Bifacial minimodule made of PERC+ solar cells and SmartWire technology with a module efficiency of 19.8 % and a rear side efficiency of 16.4 %
Ion-implanted, screen-printed n-PERT solar cells with >99% bifacility and efficiencies up to 21.8 % (2015, in cooperation with Leibniz Universität Hannover)
Ion-implanted IBC (Interdigitated Back Contact) solar cells with efficiencies of up to 22.1 % (2013, in cooperation with Bosch SE)
These cell and module processes are available for services, as is the technology centre itself.
Tool list
Batch tool for wet chemical cleaning, Si etching, and alkaline texturing (RENA)
Inline tool for single side polishing and etching (RENA)
Quartz tube furnace for thermal oxidation as well as POCL3– and BBr3-diffusion (Tempress)
LPCVD-furnace for deposition of a-Si (Centrotherm)
Direct PECVD for SiNx deposition (Roth&Rau)
Industrial SiNx and AlOx deposition tool based on the ICP technique (Singulus)
Ultra-fast ALD tool (SolayTec)
Laser laboratory with five laser material processing systems, e.g. for ablation of dielectric layers or laser doping (InnoLas, Coherent, IPG, EdgeWave, Trumpf)
Industrial screen printers and firing furnaces for the solar cell metallization (DEK, ASYS, centrotherm)
Integrated inline high-rate evaporation and sputtering system (Applied Materials)
Automatic tabber/stringer for double-side contacted solar cells with 2 to 5 busbars or IBC cells (Mikron)
MultiWire-Foilator and Assembling for interconnection of busbarless cells (Meyer Burger)
Vacuum laminator (Meier)